Supporting the Marine Conservation, Education & Research work of the National Lobster Hatchery Charity. All trading sales are handled by NLH Enterprises Ltd on behalf of the National Lobster Hatchery charity.
Adopt a Lobster Gift Pack with stationery set
00355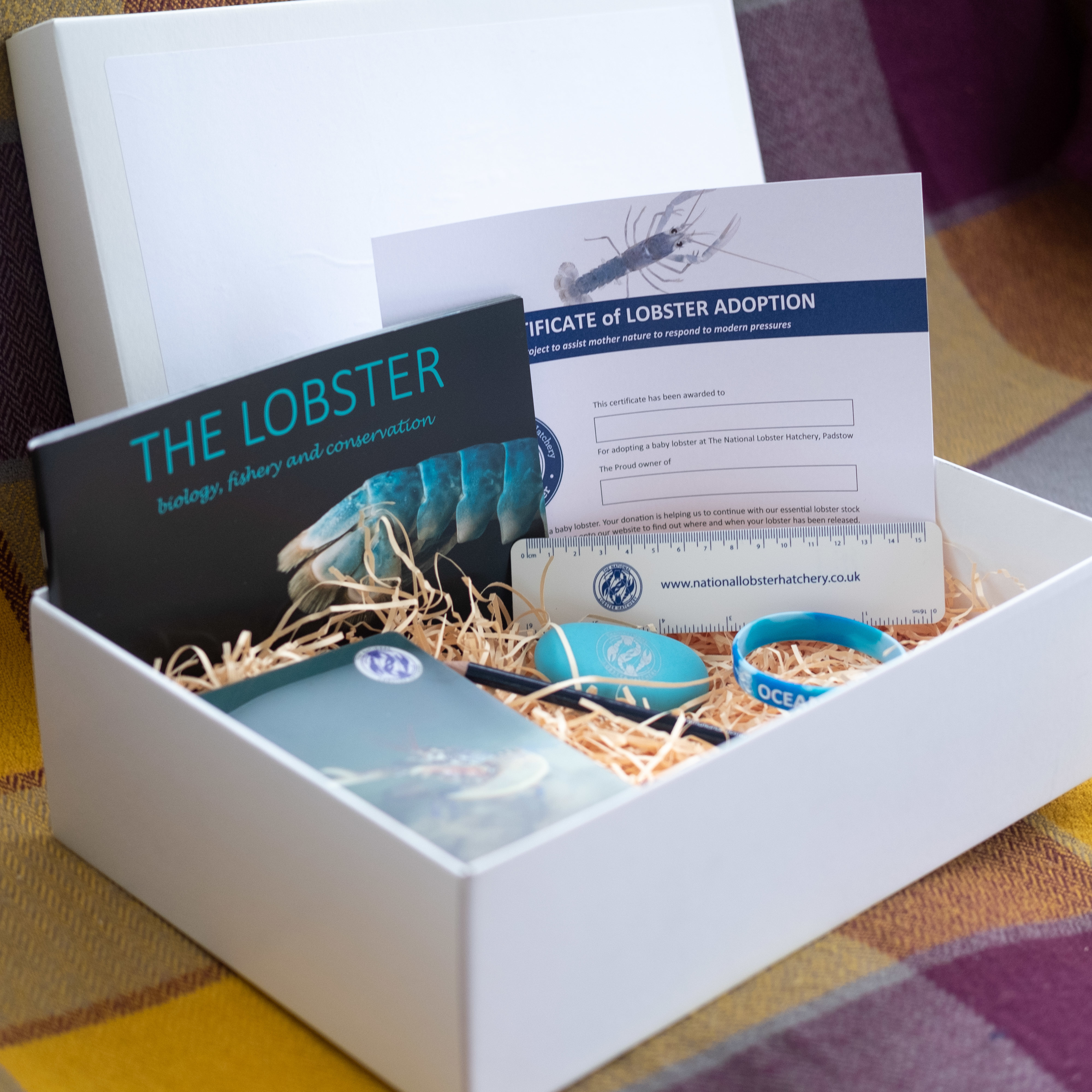 Adopt your very own European Lobster or perhaps Adopt a Lobster for a friend, along with some amazing National Lobster Hatchery stationery and a Lobster Ambasador wrist band.


You get to name your lobster.
You will receive a personalised certificate.
You will receive an information sheet about lobsters and a booklet about the European Lobster.
The details of when and where your lobster is released will be published on our website.
We will also send you regular updates about the Lobster Hatchery's work with our e-newsletter if you wish.
All this will be delivered to your door in a lovely Lobster Gift Box.
The National Lobster Hatchery is a pioneering marine conservation, research and education charity. Our primary aim is to help conserve the vulnerable lobster populations and preserve coastal marine biodiversity. In doing so we will be safeguarding the livelihoods of small coastal communities and preserve our rich coastal heritage.

Fisheries around the world are suffering from major over-exploitation. The Food and Agriculture Organisation of the United Nations state that over 75% of the world's major fisheries are either: fully exploited, over-exploited, depleted or recovering.
It is clear that additional measures are required in order to improve the way we treat our living marine resources and this is why our work is so important. Lobster stocks themselves are incredibly vulnerable and both the Scandinavian and Mediterranean stocks have completely collapsed and not recovered to this day.
Our public visitor centre welcomes over 40,000 per year to learn about the fishery and the sustainability issues it faces. Help us to balance the need for a sustainable and productive fishery with the needs and requirements of our living marine resources.

Boost your donation by 25p of Gift Aid for every £1 you donate
GIFT AID TERMS & CONDITIONS
Your £4 donation goes towards the costs of raising and releasing a lobster back into the wild. Thank you for supporting the charitable work of the National Lobster Hatchery.
Gift Aid Terms & Conditions
If you are a UK tax payer and you agree, the government will give us an extra 25% on top of your donation. Gift Aid is reclaimed by the charity from the tax you pay for the current tax year. Your address is needed to identify you as a current UK taxpayer.
Gift Aid Declaration Statement for a single donation. Please tick the box if this applies. I am a UK taxpayer and understand that if I pay less Income Tax and/or Capital Gains Tax in the current tax year than the amount of Gift Aid claimed on all my donations it is my responsibility to pay any difference.
We cannot claim gift aid on gifted items.
Please notify the charity if you:
want to cancel this declaration
change your name or home address
no longer pay sufficient tax on your income and/or capital gains
If you pay Income Tax at the higher or additional rate and want to receive the additional tax relief due to you, you must include all your Gift Aid donations on your Self-Assessment tax return or ask HM Revenue and Customs to adjust your tax code.
"Why can I only gift aid £4 rather than the full cost of the hamper?"

You can only gift aid on items that are classed as a donation, so this could be for an adoption or on admissions. Unfortunately you can not gift aid products.
Photography by Idenna.com
£15 In stock
Who are you adopting a lobster for
Name your lobster
Delivery address (if different from yours)
I have read the Gift Aid Terms Yes (0)
Is this a gift? If you answer no, your donation is eligible for gift aid. If you answer YES, we can't claim on gifted items. Yes (0) No (0)
I am a UK tax payer: Yes (0) No (0)