Supporting the Marine Conservation, Education & Research work of the National Lobster Hatchery Charity. All trading sales are handled by NLH Enterprises Ltd on behalf of the National Lobster Hatchery charity.
Blue Moules Gift Set
00257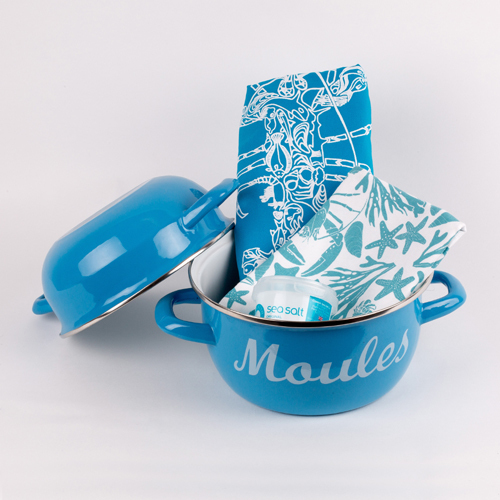 In gorgeous, coastal inspired turquoise colours, this beautifully co-ordinated Hamper is sure to be hit with Moules fans!
A Medium Moules Pot, our new design Lobster Mosaic Apron, a Hatchery Tea Towel and a handy little Pinch Pot of Original Cornish Sea Salt - just add mussels, wine, garlic and friends!!
Moules Pot - You can cook directly on the stove with these pots and then take them straight to the table, the lid becomes your waste bowl for empty shells. Perfect! What could be better?
Dimensions: 20cm diameter 17cm height
Lobster Hatchery Mosaic Apron - our new design by Simon Thomas, one of our very talented volunteers. If you look closely you will see the lobster design is created from a mosaic of local sea life: cuttlefish, jellyfish, orca, basking shark, dolphin, seal, octopus, moray eel, bream, prawns, oysters, crab, seahorse, spider crab, goby, rays, mussel shell, flat fish and, of course, lobster.
Turquoise Sealife Mosaic Tea Towel - fabulous quality and generously sized at 50cm x 81cm, these 100% Cotton, 100% Cornish made tea towels were designed specially for the Hatchery by Demelza Homewood.
Original Cornish Sea Salt - a handy little tub of Cornish Sea Salt Original that can live in the kitchen or on the table quite happily! The Cornish Sea Salt Original has a wonderfully crunchy texture and can be easily crumbled between the fingers without needing to be transferred to a grinder. Pinch Pot 75g
Photo by Idenna.com
£45 In stock
Brand:National Lobster Hatchery