Supporting the Marine Conservation, Education & Research work of the National Lobster Hatchery Charity. All trading sales are handled by NLH Enterprises Ltd on behalf of the National Lobster Hatchery charity.
Caroline Cleave Hamper
00277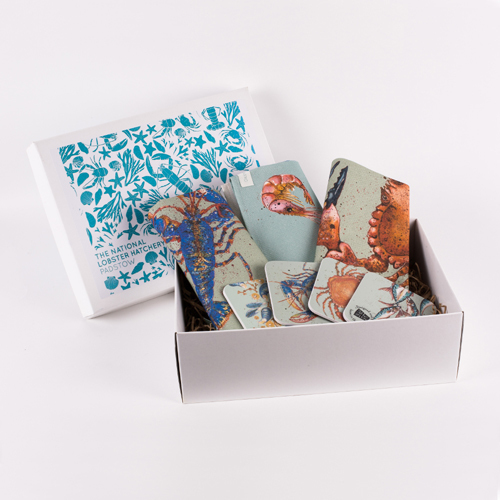 Celebrating an incredible Cornish artist, Caroline Cleave we wanted to put a hamper together of some of her goodies.
In this hamper you will receive the set of 3 T-Towels, crab, lobster and pot of prawns, and a set of 4 coasters for your coffee table, designs of crab, lobster, mackerel and mussels.
T-Towel dimensions 70cm x 48cm, designed and made in the UK.
We sell an extensive range of Caroline Cleave t-towels, aprons, coasters and cushions. Please note the background colour of the three t-towels slightly differs. Don't let this put you off, they complement each other beautifully. The lobster t-towel has changed for 2017 and is also slightly longer at 75cm.
Coaster dimensions 93mm square, soft backing to protect surfaces and a matt finish. Designed and made in the UK.
Photography by Idenna.com
£33 In stock