Supporting the Marine Conservation, Education & Research work of the National Lobster Hatchery Charity. All trading sales are handled by NLH Enterprises Ltd on behalf of the National Lobster Hatchery charity.
Children's Gift Hamper or alternative party bag
00221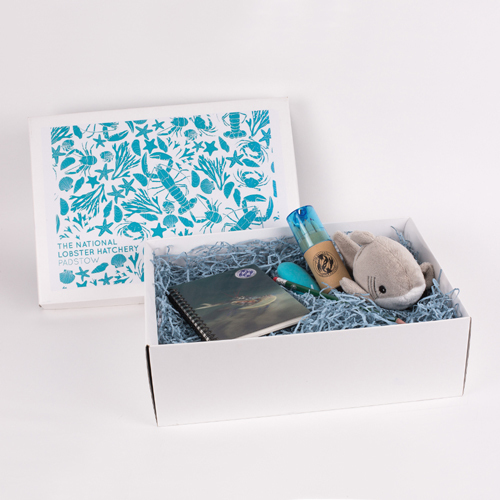 For £14.50 per Hamper you will receive a soft toy of your choice, rubber, pencil, tube of coloured pencils and a funky 3D Lobster notebook. The text field gives you the option of choosing your option for the soft toy. If you order more than one hamper, we will give you different coloured pencils and rubbers in each one to add variation.
IF YOU ARE ORDERING FOR A CHILDRENS PARTY: select your overall quantity (so 6 if you have 6 guests which will take your order up to £87) then in the text field you can include your preferences for the soft toys. We have listed 2 different ways you might enter this information below to give you an idea:

Soft Toys: 3 dolphins and 3 seals OR 1 of each animal
Each gift box can hold up to 6 party packs, so if you are ordering for more, you can always add a second gift box. Or if you really wanted to go to town and have a gift box for each person, you can add empty gift hampers to your order.

If you have any questions please do not hesitate to contact us and if you would prefer to spend less per guest you can always put your own hamper together.
Check out our colouring-in table cloths too, they may keep the party quiet for half an hour!? You would only need one per party and all the children can help to colour it in. Or add an Adopt a Lobster certificate for each guest.
We would be delighted to receive photographs from your party to share on social media!
£14.5 In stock
Soft Toy (White Seal, Blue Dolphin, Turtle, Clownfish, Grey Shark or Walrus)