Supporting the Marine Conservation, Education & Research work of the National Lobster Hatchery Charity. All trading sales are handled by NLH Enterprises Ltd on behalf of the National Lobster Hatchery charity.
Classic Moules (Mussels) Cooking Pot & Serving Bowl (Small)
00138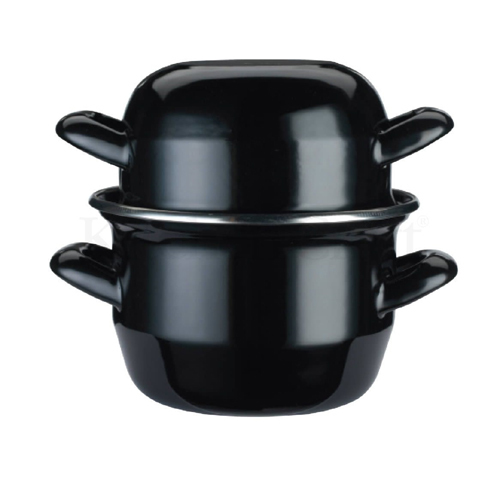 Moules et frite - just those three words will make your mouth water and transport you back in time to that sunny afternoon you spent overlooking the beach in France and tucking into this classic French dish accompanied by a chilled glass of wine - or maybe memories from closer to home with some beautifully fresh Porthilly Mussels, grown in the Camel Estuary right opposite our Hatchery!
Moules tick all the boxes:
They make a very simple yet impressive meal for a dinner party (cooking time for mussels 10 minutes! - do the preparation before your guests arrive).
A lovely romantic meal for that special person in your life.
Treat your family or yourself to something different.
More importantly farmed mussels are one of the most sustainable seafood you can eat!
You can cook directly on the stove with these pots and then take them straight to the table, the lid becomes your waste bowl for empty shells. Perfect! What could be better?
In a super quality Black Enamel these are the smallest of our range and are just ideal for individual servings.
Dimensions:
Individual pot 12cm diameter 14.5cm height (with lid)
Please see our other listings for the Medium pots.
£13.5 In stock