Supporting the Marine Conservation, Education & Research work of the National Lobster Hatchery Charity. All trading sales are handled by NLH Enterprises Ltd on behalf of the National Lobster Hatchery charity.
Colour-In Tablecloths
00250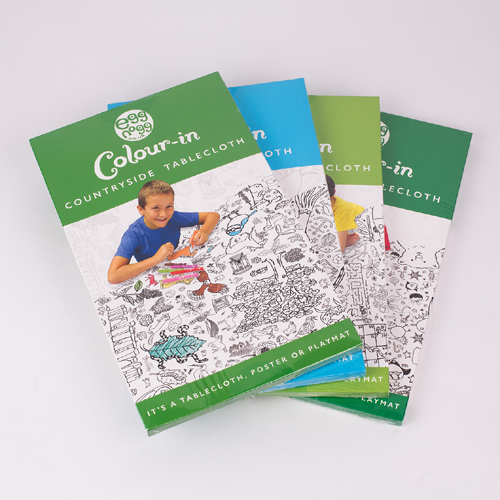 We just love these multi-award winning Colour-Ins with fabulous Tablecloth designs for the Countryside, Seaside, Christmas, Puzzle-Time and Amazing Animals.
Creative colouring has become such a craze for young and old alike, the tablecloths will provide hours of entertainment come rain or shine! Use them as a tablecloth for a tea-party, a playmat for pretend play, a poster on the bedroom wall or as fabulous, original wrapping paper for gifts!
Measuring a whopping 1270mm x 952mm, they fold down to a neat 250mm x 150mm lightweight, postable package - a perfect gift!

A seasonal best seller, the Christmas Tablecloth is packed full of Christmassy things to colour in. From smiling Santa Clauses and leaping reindeer, to French hens and geese a-laying, and plum puddings and presents, it's a must for a quiet family Christmas and makes a great table decoration.
Countryside, Seaside, Puzzle-Time and Amazing Animal are full of topical, engaging designs to provide hours of fun and amusement.

Tablecloths: 1270x952mm, paper. Pens not included.

Designed and printed in the UK
Made from special, durable, FSC accredited paper
Suitable for coloured pencils, crayons, pastels, chalks, paints and felt tips
Photography by Idenna.com
£8.95 In stock
Design Christmas (0) Seaside (0) Amazing Animal (0) Countryside (0) Puzzle-Time (0)