Supporting the Marine Conservation, Education & Research work of the National Lobster Hatchery Charity. All trading sales are handled by NLH Enterprises Ltd on behalf of the National Lobster Hatchery charity.
Cornish Sea Salt Hamper
00071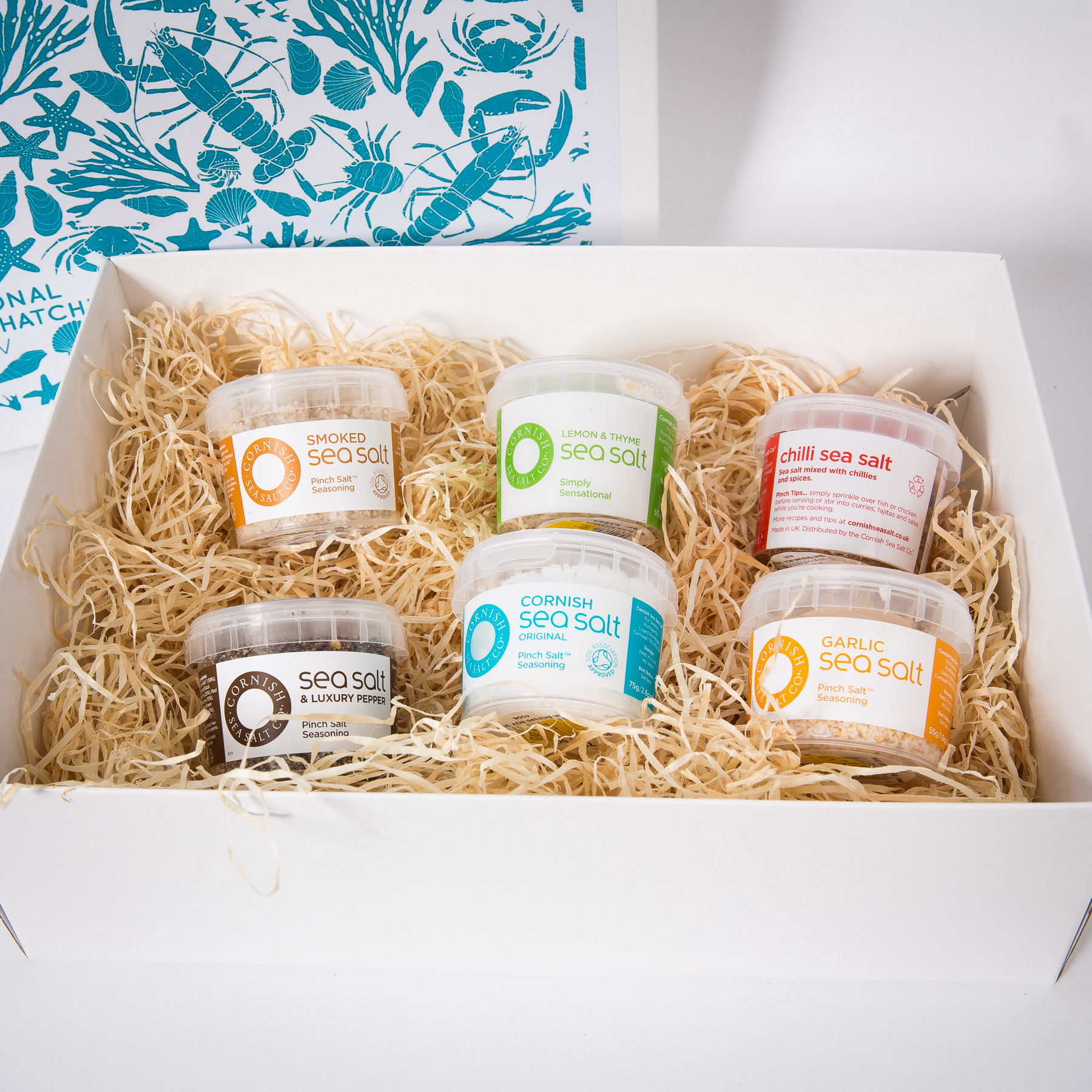 For cooks who love to experiment with flavours or those who simply appreciate good, high-quality ingredients, these Cornish Sea Salt hampers make a lovely gift for friends and family.

This is a fabulous range of pinch pot seasonings - from original sea salt through flavoured salt mixtures to amazing seaweed seasonings - all made right here in Cornwall. Cornish Sea Salt is a pure and natural sea salt. Importantly, it is unrefined. This means that it retains over sixty naturally occurring trace elements, such as potassium, calcium and magnesium, which help to both metabolise the sodium better and maintain a healthy balance of electrolytes in the body. It is typically 5-10% lower in sodium than processed table salt and it's so full of flavour you really do just need a pinch!
This super hamper comprises of a selection of six pinch pots, beautifully packaged in a National Lobster Hatchery gift box.

Actual flavours may vary according to our stock but each hamper will typically contain:
1 x Original Sea Salt
1 x Salt & Peppery
1 x Seaweed Seasoning
3 x Flavoured Sea Salt
Please see below for descriptions of the individual flavours.

We can deliver to you or directly to your friend. We can include a personal message in the gift box - please add your message when you place your order. We will include word for word so don't forget to include your name if you want the recipient to know who the gift is from!
Cornish Sea Salt - Original 75g
A handy little tub of Cornish Sea Salt Original that can live in the kitchen or on the table quite happily! The Cornish Sea Salt Original has a wonderfully crunchy texture and can be easily crumbled between the fingers without needing to be transferred to a grinder.

Sea Salt & Luxury Pepper 60g
Enhance the flavour of any dish with a blend of sea salt with cracked black peppercorns, red pepper and green peppercorn and not forgetting the pimento renowned for their aromatic flavours. You'll find you use this with anything and everything that you are cooking, but it is particularly good with eggs, any type of potato and also prawns and salmon.
Chilli Sea Salt 50g
Add a satisfying heat and rich intensity to the food you love with a blend of pure and natural Cornish Sea Salt flakes and luxury chillies, each cultivated for their unique heat and flavour, infused with slow-roasted garlic and onion. It is medium heat - not too mild, and not too intense! This Pinch Salt is really versatile - use it in cooking or sprinkled over your meal for a little extra heat. Contains gluten.
Smoked Sea Salt 75g
Enhance your favourite dishes with an aromatic, naturally sweet and smoked flavour created by smoking pure and natural Cornish Sea Salt flakes slowly over apple and cherry wood chips. This is great for rubbing over meat or fish before barbequeing, or add to stews and sauces.
Garlic Sea Salt 55g
Give your cooking a rich pinch of garlicky flavour. Pure and natural Cornish Sea Salt flakes infused with garlic that has been slow roasted to a mellow intensity, creating sweet, caramelised characteristics. This is a great Pinch Salt for cooking with - it works particularly well with roasted vegetables and any sort of potato.
Lemon & Thyme Sea Salt 55g
An aromatic blend of Cornish Sea Salt, lemon, thyme, onion and garlic - delicious sprinkled over white fish or chicken, and perfect with leeks, asparagus and other summer veg. Try a pinch with buttery new potatoes or mix with mayonnaise.
Savoury Seaweed Flakes Blend 18g
Add a pinch of healthy seaweed seasoning for a savoury burst with a hint of umami. Rich in minerals, vitamins and other nutrients, all created by the sea.
This is an exciting alternative to traditional seasonings. Delicious as seaweed butter, melted over scallops or grilled mushrooms. Add the zest of the sea to everyday salads and pasta.
Seaweed Sea Salt 60g
This nutritious duo of sustainable seaweed and natural sea salt is rich in vitamins and minerals. Sprinkle over salad and steamed vegetables, or invigorate stir fries. Delicious with fluffy mash and pasta. Seaweeds are the most nutrient dense foods on the planet, and they bring the organics, packed with vitamins, proteins and amino acids which work in harmony with the inorganic minerals found naturally in our sea salts. Together, they are the yin and yang of the sea.
Photoghraphy by Idenna.com
£20 In stock