Supporting the Marine Conservation, Education & Research work of the National Lobster Hatchery Charity. All trading sales are handled by NLH Enterprises Ltd on behalf of the National Lobster Hatchery charity.
Gifts in a Tin range
00252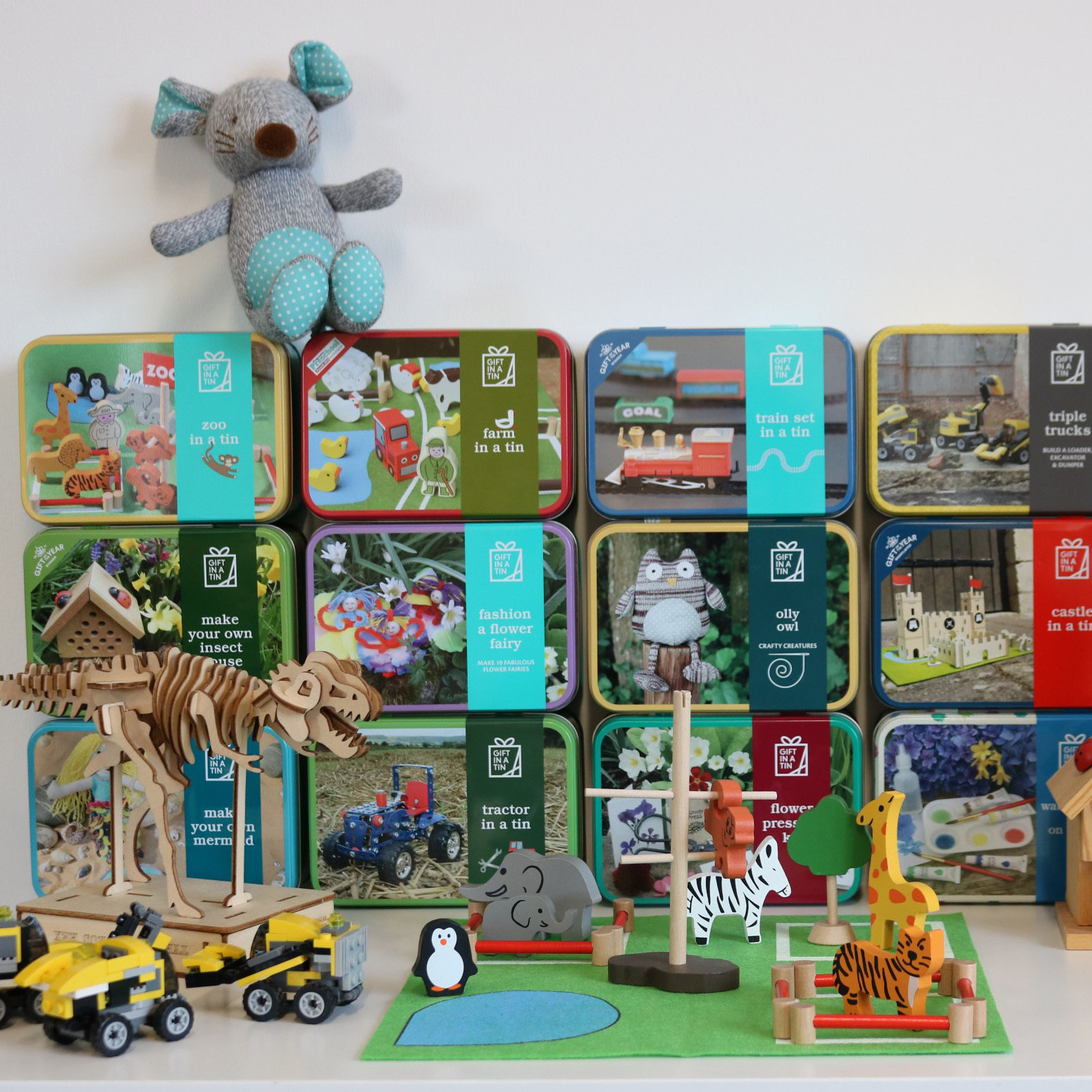 This award-winning range of Gifts in a Tin is absolutely fabulous!
So many designs to choose from - all intended to keep your little (and not so little) ones amused for hours - whether at home, in the garden, on the beach or even on the move!!
These neat tins are great all year round gifts and are so easy to package up and post - or throw in the holiday bag.
Stock varies - please see "Options" for current availability
Bird Watching Kit
Budding twitchers will love spending time in the great outdoors studying birds using the gear provided in this mini bird watching set. A super gift idea for youngsters with an interest in nature and those who like spending time outside. Why not buy this before you visit us in Padstow and then your kids can explore the fabulous wildlife along the Camel Trail!?!
Contents
Binoculars, spotter, magic eye, bird ID sheet, pad and pencil plus stickers.
Recommended age: 8 years to adult
Build Your Own Microscope
Using the kit and step by step instructions provided, young scientists can construct a handy microscope for examining specimens on the blank and prepared slides included in the product. Encouraging kids' curiosity, this microscope allows the tiniest of things to be seen close up and best of all it can be re-packed into its tin for easy transportation during field trips.
Contents
Microscope kit, 2 prepared slides, 2 blank slides, pencil, observation sheet and instructions
Recommended ages: 8 to adult
Castle in a Tin
Be your own "King (or Queen!) of the Castle" with this wooden model kit, which comes complete with towers, flags, movable drawbridge, knights, horses, instructions and play mat.
Contents
Wooden model kit for castle, 3 knights and 2 horses, play mat, stickers, sand paper and instructions.
Recommended age: 8 years to adult
Chess Set in a Tin
Chess remains a popular board game worldwide. This superb miniature set has wooden playing pieces and a game board that all stores away in this handy tin. Ideal for playing at home or when travelling.
Contents
Wooden chess pieces, wooden game board and instructions.
Recommended ages: 6 years to adult
Christmas in a Tin
OK, perhaps not something you want to think about when the sun is shining but there's nothing like planning ahead!! A perfect stocking filler or Secret Santa present.Fantastic festive fun: make a melting snowman from the reusable putty, add a decorative wooden Christmas tree then complete the display with the Father Christmas and reindeer ornaments.
Contents
Melting snowman putty, wooden Christmas tree kit, 2 ornaments, wire, glitter glue and instructions.
Adults only - this is not a toy.
Fabulous Musical Carousel
The Fabulous Musical Carousel is just that...fabulous! It moves, it plays music, what more could you want? Following the instructions, build this working wooden model of a fairground musical carousel then wind it up and enjoy the tune as the horses go round and round!
Contents
Wooden model parts, glue, clockwork musical motor, screwdriver, stickers and instructions.
Recommended ages: 8 years to adult.
Farm in a Tin
Escape to the country!! Sure to become a classic, this chunky wooden Farm in a Tin gives little ones a taste of the good life and a smallholding all of their own. Hours of creative, educational play as they turn the horses out to graze, send the mother duck and her chicks onto the pond and pen the livestock.
Contents
Assorted wooden farm animals and building, plus play mat.
Recommended ages: 4 years to adult.
Fishing Port in a Tin
Let their imaginations run riot as they create their own fishing port - maybe they will model it on our home town of Padstow? A bucket load of fun to be had with beautifully crafted wooden play pieces whether you are home or away!
Contents
Assorted colourful wooden play pieces, card fish, printed felt mat, play sheet and instructions.
Recommended ages: 4 years to adult.
Make Your Own Mermaid
We just couldn't resist this fabulous craft kit!! Everything you need to make your own pretty mermaid with golden locks and shimmering scales! Transform the soft bodied doll into a dazzling mermaid with flowing hair and a sequinned tail using the craft materials and instructions provided.
Contents
Mermaid body, felt clothing, sequins, wool, beads, needle, thread and instructions.
Recommended ages: 8 to adult
Miniature Flower Pressing Kit
Press your own flowers to make cards and pictures using this miniature flower press, which comes complete with flower cutters.
Contents
Miniature flower press, flower cutters, cards, glue and pressing paper.
Adults only, this is not a toy.
Mini Breakdown Truck
A super construction kit to build a tow-truck complete with working hitch and movable cab.
Contents
This tin include metal construction parts and bolts, wheels, spanner, screwdriver and instructions.
Functional sharp point, choking hazard, Age 8+
Mini Mechanic (set of 3 models)
Great for young engineers! Use the tools to bolt together the metal components to create three fabulous models - or let your imagination run wild to create your own daring designs!
Contents
3 model kits, instructions and tools
Recommended ages: 8 to adult
Pirate Ship in a Tin
Ah-ha me Hearties! Plunder the seas and hunt for treasure with this fabulous craft kit. Packed to the gunwhales with everything you need to build and paint a fantastic wooden pirate ship - complete with a Pirate's Eye-Patch, Treasure Map and Pirate Stickers. Sure to be a hit with young scallywags!
Contents
Wooden pirate ship kit, acrylic paints and brush, glue, eye-patch, treasure map, pirate stickers and instructions.
Recommended ages: 8 to adult
Springwatch Junior Birdwatching Kit
Create a hide from the camouflage net then use the binoculars to watch birds in your garden. Using the stickers provided, see how many different species you can identify on your spotter sheet.
Contents:
6x30 magnification binoculars, camouflage/hide net, spotter sheet, stickers, sketch pad, pencil and instructions.
Recommended ages: 6 years to adult.
Tea Party in a Tin
Just add scones and cream for a perfect Cornish Cream Tea!! Kids just won't be able to resist this delightful spotty tin, which is packed to the brim with a charming polka dot ceramic tea party set.
Contents
Dinky ceramic teapot, 4 cups, saucers, spoons and mini picnic blanket.
Recommended age: 8 years to adult
Triple Trucks
Complete with plastic building blocks, children can use the instructions to build three models, a loader, dumper and excavator. The fun doesn't end there, with a little imagination they can create so much more!
CHOKING HAZARD. Small parts - not suitable for children under 3 years.
Zoo in a Tin
Much like the Farm Tim, this is a classic!! Complete with animals, keeper and enclosures this colourful tin will ensure hours of fun!. The chunky pieces can be packed carefully back into the tin making it a great choice for kids on the move and they can also be drawn around for colouring in fun.
Contents
Assorted wooden zoo animals, keeper, sign, tree, fencing and play mat.
Recommended ages: 4 years to adult.

£11.99 In stock
Gifts in a Tin Christmas (0) Make Your Own Mermaid (0) Miniature Flower Pressing (0) MinI Breakdown Truck (0) Pirate Ship (0) Springwatch Wildlife Garden (0) Tea Party (0) Triple Trucks (0) Zoo (0)