Supporting the Marine Conservation, Education & Research work of the National Lobster Hatchery Charity. All trading sales are handled by NLH Enterprises Ltd on behalf of the National Lobster Hatchery charity.
Ladies Lobster Mosaic V neck fitted Navy T-Shirt
00246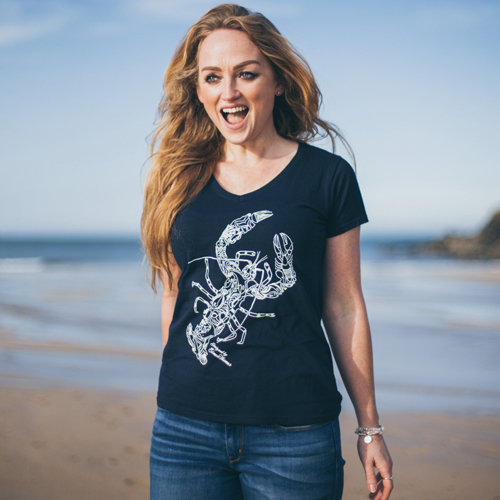 Lobster Mosaic v neck T-Shirt on the front and the wording 'The National Lobster Hatchery Padstow' on the back.
New for 2016, design by Simon Thomas, one of our very talented volunteers
If you look closely you will see the lobster design is created from a mosaic of local sea life: cuttlefish, jellyfish, orca, basking shark, dolphin, seal, octopus, moray eel, bream, prawns, oysters, crab, seahorse, spider crab, goby, rays, mussel shell, lobster, flat fish.
Photo by Idenna.com
Adult T-Shirt Size Chart

SIZE
BODY LENGTH
(in inches)
BODY WIDTH
(in inches)
SHORT SLEEVE LENGTH
(in inches)
LONG SLEEVE LENGTH
(in inches)
S
27.5
18
8
25
M
28.5
20
8
25.5
L
29.5
22
8.25
26
XL
30.5
24
8.5
27
2XL
31.5
26
8.75
28
3XL
32.5
29
9
N/A
4XL
33.5
31
9.25
N/A
£15 In stock
Size XS (0) S (0) L (0) XL (0)