Supporting the Marine Conservation, Education & Research work of the National Lobster Hatchery Charity. All trading sales are handled by NLH Enterprises Ltd on behalf of the National Lobster Hatchery charity.
NLH Lobster Mosaic Apron (3 colours)
00248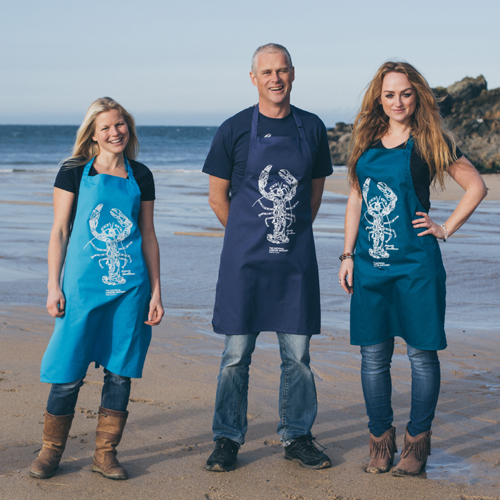 These fabulous aprons depict our very special Lobster Mosaic design created by Simon Thomas, one of our very talented volunteers.

If you look closely you will see that the lobster is created from a mosaic of local sea life: cuttlefish, jellyfish, orca, basking shark, dolphin, seal, octopus, moray eel, bream, prawns, oysters, crab, seahorse, spider crab, goby, rays, mussel shell, flat fish and, of course, lobster.

Stylish yet practical and available in three super coastal colours, the aprons are made of fully washable poly/cotton, featuring generous tie cords and an adjustable neck strap.

Thanks to Dom, Carly and Clare for modelling on a sunny but very cold day on the beach!!

Photos by Idenna.com
£22 In stock
Colour Navy (0) Teal (0) Turquoise (0)