Supporting the Marine Conservation, Education & Research work of the National Lobster Hatchery Charity. All trading sales are handled by NLH Enterprises Ltd on behalf of the National Lobster Hatchery charity.
Scrunch Buckets - Bucket for Life
00020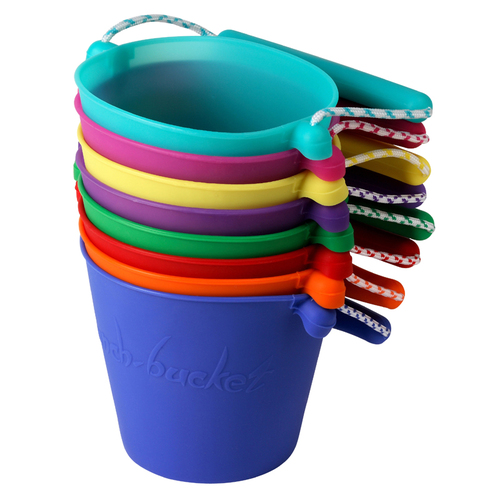 The award-winning Scrunch bucket. How many buckets have you had to throw away in your lifetime? How many cheap buckets shatter on the first visit to the beach! Not any more.
We have been trying to source a bucket like this for years and our wish has been granted. These funky scrunch buckets are made from food-grade silicone, 'an eco-friendly alternative to the short-sighted, use-once-and-throw-away products and made from simple quartz sand. Silicone is playing a vital role in modern advancements toward sustainability, and is well on its way to being an irreplaceable part of our daily goal to live in an eco-friendly, environmentally conscious way everyday. The incredible durability of silicone products grants them an impressive, long life of reusability. Because of this, they replace single-use items that are often also petroleum-based, and thus decrease our reliance on fossil fuels'. Ref Funkit-World.com
The buckets come in lots of different colours and can be used anytime, anywhere for anything. You can roll it, scrunch it - the ultimate collapsible bucket!
Brilliant for the beach, a useful water bowl for your dog to keep in the car, display your potted herbs on your window sill, de-clutter your bath and store the kids toys or your shampoo bottles in them.
13cm high, 16cm diameter, capacity 1.5 litres, made from food-grade silicone.
Colours vary according to stock - please select your colour preference.
£8.99 In stock
Colour Preference