Supporting the Marine Conservation, Education & Research work of the National Lobster Hatchery Charity. All trading sales are handled by NLH Enterprises Ltd on behalf of the National Lobster Hatchery charity.
Seafood Lover Hamper
00171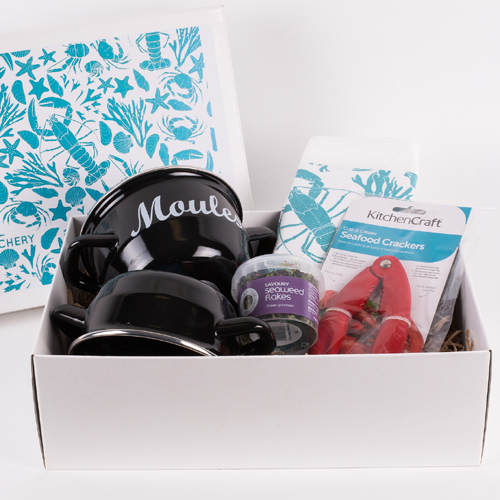 This will put a smile on the face of any Seafood lover with
a really cute individual moules pot that you can cook with, serve with and eat from, and the lid turns into the bowl for the empty mussel shells
a very smart red seafood crackers for the larger crustacean like crab and lobster
a beautiful sealife mosaic turquoise tea-towel
a pinch pot of Savoury Seaweed Flakes by Cornish Sea Salt Co.
all packaged in a beautiful gift box
We can deliver to you or directly to your friend. If you want us to put a personal message in the gift box we can do that too, type your message. We will include word for word so include your name if you want or you can leave it anonymous.
Photography by Idenna.com
£37.5 In stock